DONE
This vehicle you can buy!

Production: Red: 25 piece Blue: 60 Yellow: 249 Silver: 265

Cars for Germany
This vehicle is an absolutely unique and individual piece.
4 years of construction
Working hours approximately 1000h
Built in 1997 / Completion 2005 / Miles around 9000

This is no ordinary vehicle, all work has been carefully thought out and executed.
Frame and axle suspensions were completely redone, because it is safety-relevant components.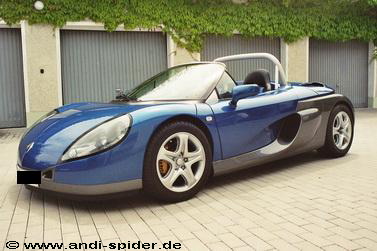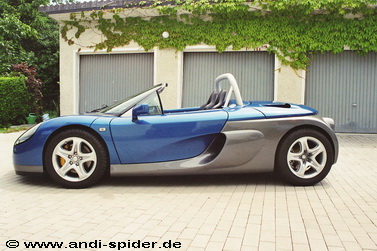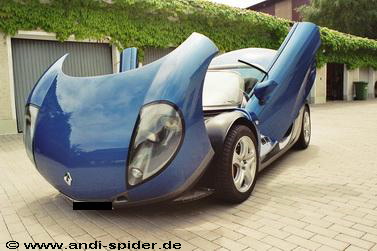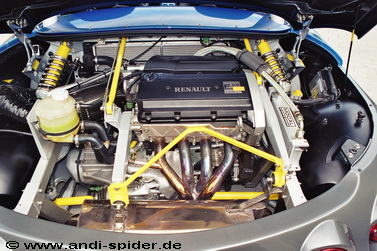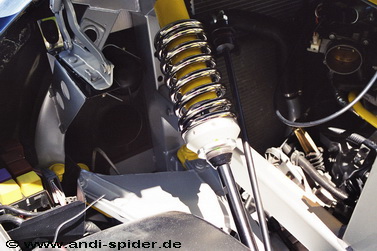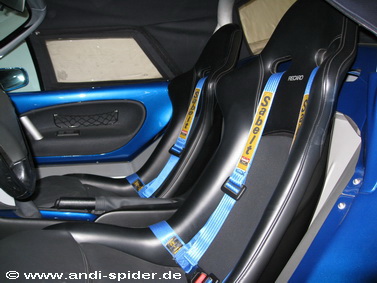 Without roll bars, he also makes a very good figure!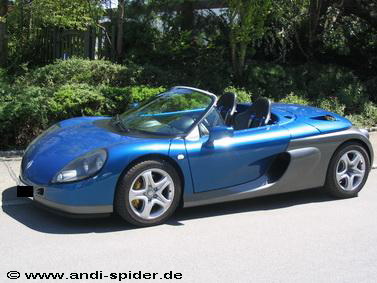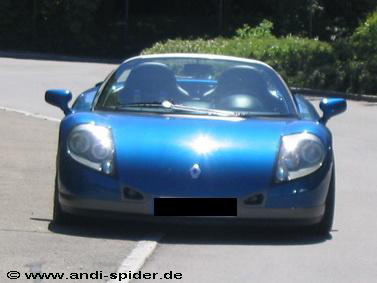 MOTOR
Displacement 1998 cm3

Bore x stroke (mm) 82.7 x 93

Maximum power 136 kW (185 hp) at 7,200 rpm.

Maximum torque 185 Nm (13.9 mkg) at 4,500 rpm.

Electronic ignition

Injection multipoint injection

Number of valves 16
PERFORMANCE
Top speed 225 km / h.

From 0 to 100 km / h. 06.7 sec

400 metres from the booth 14.4 sec

1000 m from the state 27.2 sec

Combined 09.3

City 12.0 litres

Country 07.7 litres

CO2 Emission 219 g / km

Fuel Super Unleaded Petrol
GEARED TRANSLATION
5 speed mechanical gearbox

1st Path 1: 3.36

2nd Path 1: 1.86

3rd Path 1: 1.39

4th Path 1: 1.10

5th Path 1: 1.05 ------------- at 1000 rpm
BRAKES
Front discs Tarox G88 internally ventilated - diameter 300 mm
Saddles Ultimativ 1-6K-34

Rear discs Tarox G88 internally ventilated - diameter 300 mm
Alpine saddles Turbo
AXIS TRANSLATION
Type two / Duoposto

Front 2 triangle superimposed handlebars - spring / damper adjustable

Rear 2 triangle superimposed handlebars - spring / damper adjustable
TIRES
Original Equipment tires Michelin Pilot Sport

Front 205 / 50 R 16

Rear 225 / 50 R 16

Tire size 16 inches

Tropic 9.8 metres
DIMENSIONS/ QUANTITIES
Fuel tank 50 litres

Engine oil 07 litresl

Length 3.795 mm

Beam 1.830 mm

Height 1.250 mm

Wheelbase 2.343 mm

Gauge forward 1.536 mm

Gauge rear 1.543 mm

Dry weight 0965 kg with disc

Perm. Total weight of 1130 kg

Payload 0165 kg with disc
EXTRA
- Engine increase from 108 kW to 136 kW (Sports camshafts, cylinder head machining, control unit, finely weigh heavy crankshaft)
- Cooler
- Dynamic Suction with BMC CDA Evo 2
- Complete exhaust fan system with stainless steel pipe (2 tailpipes in oval)

- Main framework, tools and small parts under all anodized
- Steel sheet metal parts and plastic-coated or painted parts
- Cage, where possible angle of stainless steel (on glossy polished)
- Door closed from aluminum
- Exhaust hood made of aluminium
- Additional sub-soil protection in the front area of alu
- Fabric in blue and Spider-foot mats Elia Tuning

- Cuphaube with modified airflow (self)
- Body was painted inside
- Flasher in white
- Amended taillights (amended harness individual preparation)
- 4 point belt
- Track
- Enhanced springs on the front axle
- Ultimativ 1-6K-34 Race Line 6-piston brake system with aluminium angle offset the Pistons Axel Reß Motorsport
- Tarox brake G88
- Brake from Kunifer (stainless) and steel flex break-hose
- Radio-central locking
- Glove compartment made of aluminium, hidden installation (closes on central locking)
- Alarm system (microwave module, tilt alarm, backup hood, battery siren)
- Starter battery Red Top 815 The OPTIMA ® is unlike any currently available batteries.
Upon request, a tour of the vehicle.
Documenting and photographing the vehicle is not permitted.
Details on the execution of works and modifications are subject to the owners.
---